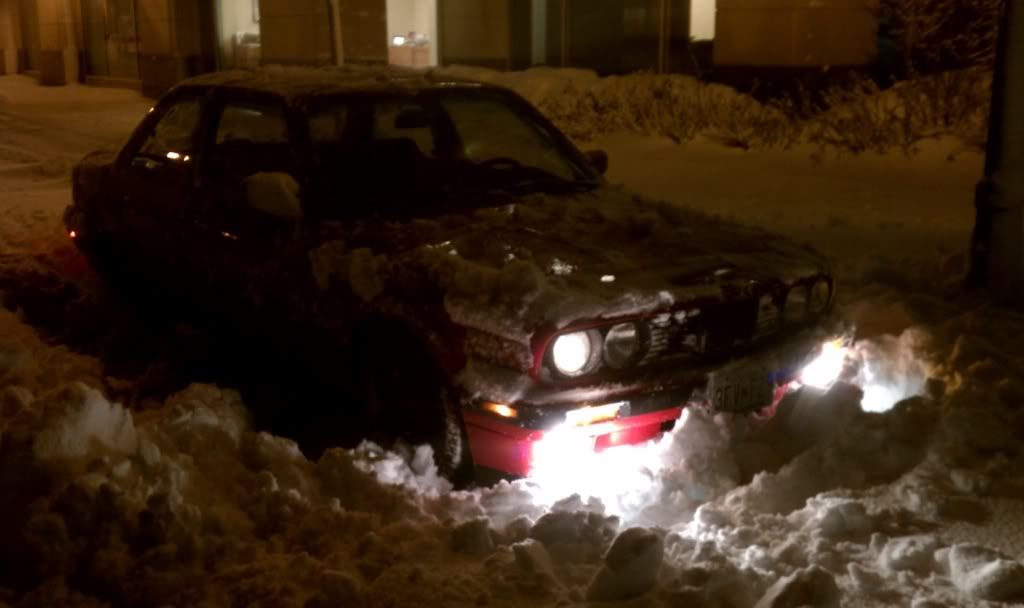 couple weeks ago
Star Wars reference,
sorta
? Welp, that ol' groundhog in PA did us a favor and looked for his shadow on an overcast day. Next thing ya know, we got a 70 degree Friday out of nowhere. I didn't even sandbag the post this time, this was last Friday! This preview of Spring was all I needed to break out the wash mitt and bucket. And the microfiber towels. And a little quick detailer.
Mmmhmm. As you can see, the coupe did a pretty good job surviving the Winter and rock-blastings by those gd salt trucks on I-95. The amount of wax that was on the car previously didn't hurt as getting the grime off the back of the car was relatively painless. I only have a couple minuscule chips on my mirrors, so I'm glad I didn't go through the process of swapping them out. My front apron wasn't so lucky though ha. My exhaust cleaned up well too, but much like I feared from it's appearance while filthy, there's some mild tarnish/rusting that took place on the very ends. I'm confident some baby grit (1000+) and some metal polish should put it back to new.
In another couple weeks I'll take the steelies off and hopefully some new daily wheels will take their place. Along with picking out a nice one-piece wheel that'll look good, be functional (lightweight) and have a multitude of cheap tire choices (15"), I've been trying to work out what will be budgeted for this year in the form of restoration, repairs and upgrades. I snagged a spare front bumper during the off-season and I plan on getting that sprayed zinnobar along with the front apron since it ain't much metal at all. I also plan on respraying the rear bumper finally so I don't have to constantly polish the discolorations as well as get new side trim to freshen the rear. I need to get much of the engine bay wiring cleaned up as it all looks like a wilting mummy currently and I need a new set of headlights; as you can see in the first shot I had a low burn out and once I went to change it I realized on rigged up my smileys are. Some of the patchwork wiring got so brittle that the power wire was broken completely; I had my stereo shop fix and improve upon what was there. Furthermore the light output has always sucked on this mismatched set that came with the car and I want to have functioning city lights as well. On a related note, independently operating fog lights would be nice too.
The biggest question mark over the past couple months is the engine bay. I'm stuck between a rock and a hard place; I want to partially rebuild this trusty ol' 230k M20 of mine, but the cost of rebuilding rivals the price of more powerful motors that could be swapped in. And if I go too far in that department, I could've just bought another car all together (on to the next one). After much soul searching and sound-boarding with the inner circle, I think I'll be doing a mild power upgrade and refresh the motor so it's nicer to look at in there. The budget is even tighter this year because I got a vacation planned that aint getting put off. I guess the knocking noise from the front suspension while turning needs to get sorted too...and those rusty brakes. Uh yea, I guess power can wait.